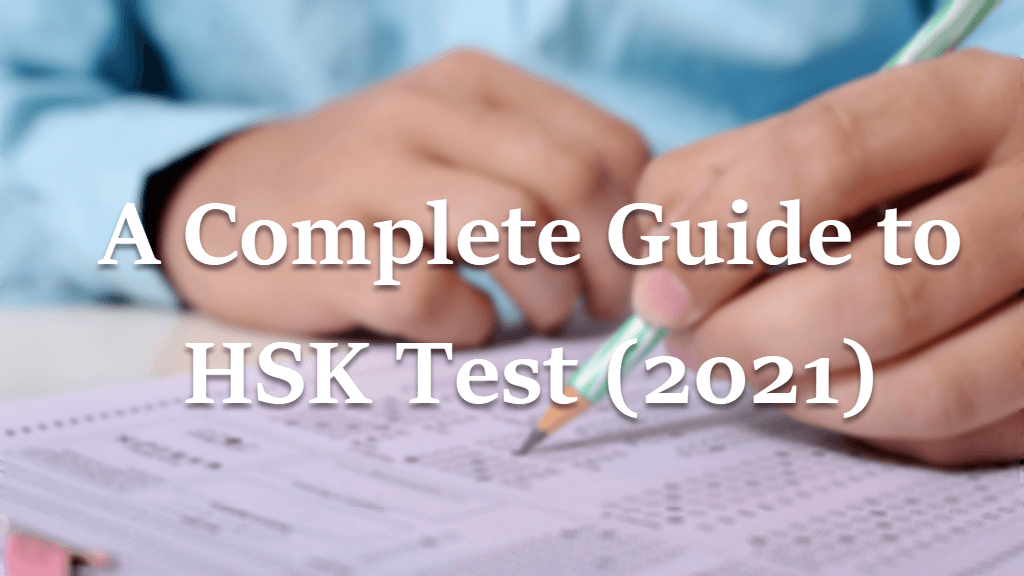 HSK stands for Hanyu Shuiping Kaoshi. Many Chinese learners don't know much about this test and don't know what it is for. In fact, HSK is of great use for Chinese learners. In this article, we will give you a complete guide to what HSK is and what it is for, as well as something else about HSK.
1. What is HSK
HSK, i.e. Chinese Proficiency Test is an international standardized test of Standard Chinese language proficiency for non-native Chinese speakers such as foreigners and overseas Chinese.
HSK comprises six levels from Level 1 to Level 6. Candidates who have passed HSK level 6 can easily understand what they hear or read in Chinese and express their opinions fluently in Chinese, either orally or in writing.
HSK Level

Level

Vocabulary

International Standard of Chinese proficiency

CEF

Description

Level 1
150
Level I
A1
Understand and use simple Chinese phrases
Level 2
300
Level II
A2
Grasp basic Chinese and communicate in simple tasks
Level 3
600
Level III
B1
Communicate in Chinese in their daily, academic and professional lives
Level 4
1,200
Level IV
B2
Communicate with Chinese speakers in various topics
Level 5
2,500
Level V
C1
Read Chinese newspapers, watch Chinese films and write in Chinese
Level 6
Over 5,000
C2
Understand any information communicated in Chinese and express their opinions in Chinese
Here is the test structure:
HSK test structure

Level

Listening

Reading

Writing

Duration

Total Score

HSK Level 1
20
20
/
40
200
HSK Level 2
35
25
/
55
200
HSK Level 3
40
30
10
90
300
HSK Level 4
45
40
15
105
300
HSK Level 5
45
45
10
125
300
HSK Level 6
50
50
1
140
300
2. Why take the HSK exam
HSK test is useful for Chinese learners, especially those who want to study or work in China. The uses are as below.
A passport to study in China
According to the regulations of China's Ministry of Education, foreign students who are enrolled in Chinese universities should at least pass Level 4 of HSK.
A must for applying for Confucius Institute Scholarships
Applicants for Confucius Institute Scholarships to study in China should take the score reports of both HSK and HSKK(HSK speaking test). If you took HSK test, you can also apply for the Chinese Test Summer Camp for short-term cultural experience and language learning in China. For more details, please visit: https://beautifulchinastudy.com/en/home
A plus for career building
HSK has become a reference for employers' decision on recruitment, training and promotion. Passing the HSK exam will definitely give you a hand in workplace.
A method for Chinese learners to assess their Chinese proficiency
Maybe you don't plan to study or work in China and you just learn Chinese out of interest. Taking HSK exams can give you the direction and motivation of learning Chinese. It also helps you assess and improve your Chinese proficiency.
3. HSK Test Registration and Result Inquiry
Sign up for HSK
Log on to the Chinese Testing Service website: www.chinesetest.cn to register for HSK test. You can choose paper-based or Internet-based tests.
Check HSK result
You can log on to the Chinese Testing Service website www.chinesetest.cn to check your HSK result one month after the test and contact the test site where you took the test to get the official test scores report within one month after the results are released.
4. When and where to take HSK test
HSK test is held every month. You can log on to the Chinese Testing Service website: www.chinesetest.cn and click the Check Schedule button to check the specific time and search the test center.
Here are the HSK test dates in 2021:
Test Date
Test Form
Deadline of Test Registration
Score announcement
Paper-based Test
Internet-based

Test

Paper-based

Test

Internet-based

Test

January
Jan-9

(Saturday)

PBT+IBT
Dec-13,2020
Dec-30,2020
Feb-9
Jan-25
February
Feb-6

(Saturday)

PBT+IBT
Jan-10
Jan-27
Mar-13
Mar-1
March
Mar-7

(Sunday)

IBT
-
Feb-25
-
Mar-22
Mar-20

(Saturday)

PBT+IBT
Feb-21
Mar-10
Apr-20
Apr-5
April
Apr-10

(Saturday)

PBT+IBT
Mar-14
Mar-31
May-17
Apr-26
May
May-15

(Saturday)

PBT+IBT
Apr-18
May-5
Jun-15
May-31
June
Jun-19

(Saturday)

PBT+IBT
May-23
Jun-9
Jul-19
Jul-5
July
Jul-18

(Saturday)

PBT+IBT
Jun-21
Jul-8
Aug-18
Aug-2
August
Aug-22

(Sunday)

PBT+IBT
Jul-26
Aug-12
Sep-22
Sep-6
September
Sep-11

(Saturday)

PBT+IBT
Aug-15
Sep-1
Oct-18
Sep-27
October
Oct-17

(Sunday)

PBT+IBT
Sep-20
Oct-7
Nov-17
Nov-1
November
Nov-6

(Saturday)

IBT
-
Oct-27
-
Nov-22
Nov-20

(Saturday)

PBT+IBT
Oct-24
Nov-10
Dec-20
Dec-6
December
Dec-5

(Sunday)

PBT+IBT
Nov-8
Nov-25
Jan-5,2022
Dec-20
5. HSK test preparation
The HSK exam can be slightly different from other language exams you have taken. Here are some tips on preparing for the HSK test.
Tip #1 - Learn about the purpose and outline of HSK test.
Be sure to read the HSK Test Syllabus carefully to learn about the purpose and outline of HSK exams, which can provide directions for your test preparation and save a lot of time.
Tip #2 - Do mock exams to get evaluated
Take the HSK mock exam before the preparing, so that you can know what level you are at and where you need to spend more time studying. You may go to your local center to get evaluated or you can go online. The official website www.chinesetest.cn offers the HSK mock test. You can also try our newly launched online HSK mock test.
Tip #3 - Prepare learning materials and resources
Official learning materials include HSK Standard Course, HSK Test Syllabus, and HSK Analysis. When you choose some supplementary resources, don't overwhelm yourself with extras. What matters is how you use your materials, not how many materials you have.
If you don't know what extra materials to buy or if you can't buy official textbooks, you may try our HSK courses, which helps you easily master all the vocabulary and grammar of HSK tests with no extra textbook or workbook required.
Tip #4 - Design a study plan and use your time wisely
After collecting learning materials, you need to think about how to take time in them. Generally, the HSK test focuses on listening, speaking, reading and writing skills, as well as vocabulary and grammar. Spend more time on your weakness. Besides, when preparing for the exam, don't forget to take breaks, which will greatly improve your learning efficiency.
At the End
Do you know better about HSK test now? It is a useful test and we suggest you to take it if you are a non-native Chinese learner. If you still have something about HSK that's not clear, you can leave a message in the comments and we will answer it for you. Finally, we wish you all can pass the HSK exam smoothly!